How Sony Cameras have taken back the TV Market.
There has been a lot spoken about the latest Sony PXW range of cameras lately, and with good reason. They have become the go-to camera for nearly all run-and-gun-style, observation documentaries and entertainment TV.
For a while, Sony had lost their stranglehold on this market. Primarily due to Canon throwing the curveballs of the EOS C300 and the XF305. Both of which accompanied their already popular stills cameras such as the 5D Mk2 and Mk3.
Sony came back with the PMW range: the PMW500, PDW-F800 and shortly after the PMW-F5 and F55. However, they never re-establish the dominance they had with the DSR-450. The DSR-450 were essentially the only camera needed for many years.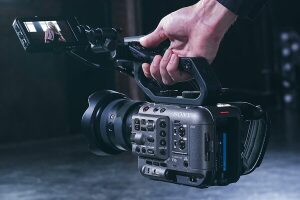 Finally, Sony seem to now have it nailed. Creating the three musketeers of broadcast and TV production: the PXW FX9, FX6 and FX3. If we are going to bring D'Artagnan into this then we can add in the A7S MkIII as a very capable 4th option.
There are few Broadcast Productions whose needs are not covered by this range of cameras. Expecially with it's flexibility with lens mounts in particular.
Sony Cameras and the G-Master Lenses
Using the Sony G-Master lenses with these Sony Cameras gives an unreal level of autofocus performance, which nicely accompanies the incredible shallow depth of field they give. Native E-Mount means you can easily adapt to other mounts, with reasonably inexpensive adapters – although these do lose the autofocus capabilities of the E-Mount G-Master lenses.
For people using manual focus, we maintain that the Canon L Series lenses are still better than their Sony counterparts. The focus on Sony lenses is controlled electronically, meaning the fraction of a second delay can cause you to miss a critical focus point, whereas the manually connected Canon ones stop exactly when you stop. We hear a lot of people struggling to manually focus these when shooting with a small depth of field as they 'overshoot' the focus.
Want to use even nice lenses? Well, E-Mount can just as easily be adapted to PL, opening up a range of PL lenses such as Arri Ultra Primes, Cooke S4i, Zeiss Supreme Primes and Zooms such as the Canon CN10, CN7 and the Arri Alura.
Bare in mind that some of these lenses are Super35mm, which will mean you need to tweak some settings.
Should I shoot full frame?
This is an ongoing debate. Many will say Full Frame looks nicer, looks crisper, more modern, and there may be something in that. However there's also a reason Super-35mm has been so popular for so long. Super35mm has that classic look that so many prefer, bringing you into the action with a slightly narrower viewpoint.
Full frame also puts focusing at a much more critical point. Not an issue if you are using the Autofocus option on G-Master lenses, but it does make footage, especially when its very run-and-gun for quick acquisition, more difficult to obtain – especially with the manual focus issues above.
The FX9 allows both Full Frame and Super35mm in HD and 4K. It's sensor is that of the 6K Venice, albeit with a few limitations and reduced codecs.
The FX6 has the smaller sensor also used in the FX3 and A7S. If you want to shoot in Super35 you have to shoot in 4K. It does not support Super35 in HD.
As I write this, in October of 2022, our FX9s and FX6s are flying in and our on a range of productions, whereas the once equally busy C300 MkIIs seem to have accumulated a light layer of dust.. It will be interesting to see Canon's response.