The Alexa 35 is nearly here. Here is why the Alexa Mini's aren't packing their bags and going away just yet.
We don't keep it a secret here at Media Dog that we love the Arri Alexa Mini's range of cameras. They've been our go tos from the Arri Amira, to the Arri Alexa Mini, Alexa Mini LF and we are now salivating at the prospect of getting our first Alexa 35. Hopefully it will be with us in the coming weeks.
Arri has had some stiff competition over the years from Red and Sony. Red has had their Dragon line featuring 6k imaging and Sony have had their Venice's. Even compared to such monsters the Mini's have been one of our top choices for the majority of high-end shoots.
Don't take our word for it? Well, here are just some productions who also found that Arri Alexa's were the cameras for them: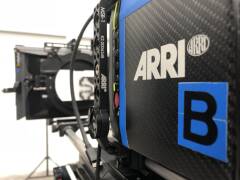 Where They've Been Used
Joker
Solo: A Star Wars Story
Blade Runner 2049
The Mandalorian
Enola Holmes
Stranger Things 4
Rocketman
Dune (2022) (We'll get to this one in a minute)
Terry Pratchett's Good Omens
1917
Mulan (2020)
So why is the Arri Alexa and the Alexa LF still the top top choice? One released in 2015, a relative pensioner in the fast-moving world of technology, and the other released in 2019.
At the top of the list comes the obvious point of image quality. It's dynamic range and outstanding colour production puts it at the top table. There's a hundred write ups out there, from directors and DOPs all saying what they like, so I will skip going too technical on this occasion.
Why We Love The Arri Alexa Mini's
For us, it's the reliability that really sets it apart. Whilst other cameras can boast similar numbers in terms of dynamic range and quality output, only the Arri cameras are supplied without some form of headache out of the box. They just work, and work well. Having efficient codecs, being stored on reliable media and a menu system that has everything in a sensible place. Whilst many other brands give you error messages along the lines of 'You can't do that but I'm not going to tell you why', Arri Cameras just make sense.
Size and weight of the Alexa Mini also makes it a top choice at all levels of film production. Whilst the Alexa Mini LF is bigger than the original Mini, Arri have been careful to keep the size within the capabilities of some of the mid-range stabilisation options such as the MoVi Pro or DJI Ronin 2. It also stays within the size and weight of Robotic Heads, Car Rigs and even in some cases, Drones.
This means you can use the same camera consistently across your shoot. It doesn't force you to swap to a smaller camera for those specialist shots.
At the lower down levels, when you are not running with fleets of film trucks and hundreds of crew members, the size allows easy moving between locations, travelling and quick and simple rigging and de-rigging.
Dune (2022)
The flexibility also allows productions to take it's output capabilities to new levels. The 2021 film 'Dune' was shot in ARRIRAW on an Alexa LF, transferred to 35mm, and then scanned back in to Digital, which creates a softer feel more akin to classic film, but keeping some of the sharp characteristics of digital film. BTS Greig Fraser ASC, ACS tested with 65mm, IMAX, Digital 35mm and Film, but said "We just want to use the digital look, but to create softness. When we projected film, it just didn't give us the feeling that we were after. Digital felt too crisp, and film looked too nostalgic." The process they decided on was one not really seen before in cinema release films, but fitted both the Fraser's and Director Denis Villeneuve's vision for the feel it produced.
"The film has softened the edges of the digital. It gave us something that film acquisition couldn't give us, and it gave us something that digital acquisition couldn't give us."
Whilst not many productions have the budget of Dune's, this innovative approach highlights how Arri have made their output so insanely good, that it can be converted in format twice and still produce an image to win over one of the world's top DOP and Director, for a box office hit.
If you'd like more information on how Dune was shot you can read more on Y. M. Cinema.
The Alexa 35 will blow the filming world away, that we are sure of. But if the Arri Alexa Mini's and the Alexa LF are this good, are they really going to vanish overnight? The LF will also keep those who prefer the Full Frame look happy. The Alexa 35 likely to win over those who prefer Super-35mm.
The Alexa 35 will add to Arri's range of outstanding choices for high-end Film, Commercial an TV Production – not replace it.
Related Items