IBC 2022 Reconnaissance Mission
Fantastic to be back at IBC after a 2 year enforced COVID absence with IBC 2022. There was lots of great gear to check out and it was good to catch up with industry professionals from all over the world. Although a lot of the things at the show for the first time have already been added to Media Dog's kit kennel. So what was new that excited us about IBC 2022….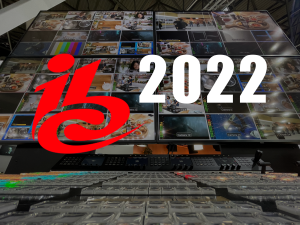 Canon
Canon have surprised everybody by launching a new high end lens: the Canon CN8 X 15 15-120mm Zoom lens. The price has not been announced but we expect it to be around £23,000. We got our hands on the lens and it looks really nice. The extra two Millimetres creates a very useful view on the world that is noticeably wider than the ever popular Canon CN7. We think it will be used instead of the CN7 on many shoots as it comes with a 1.5 built in extender effectively making the lens 180mm. This gives single operators the ability to get that bit tighter in, so useful when you're running and gunning making a TV documentary. With the extender engaged this lens will cover full frame but you will lose some light. We also suspect you'll lose a small amount of image quality.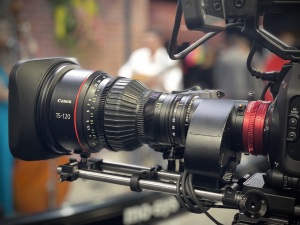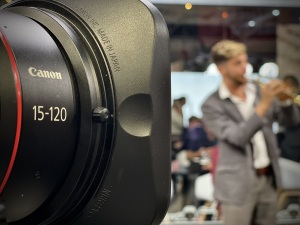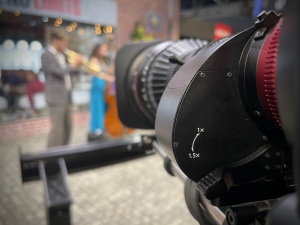 Red
Red showcased it's new V-Raptor XL camera with its multi format 8K LF or 6K super 35 sensor. It does incredible slo-mo at 600 frames per second at 2K. Currently there is no viewfinder for it but it should be here next year. It looks like a very nice camera and being from RED will produce gorgeous images.
Sony
We where very impressed with Sony's FR7 a full frame PTZ camera that allows the huge range of e-mount lenses to be used. It uses the same full frame sensor as the incredibly popular Sony FX6 so we have no doubt it will perform well and produce stunning results. We think it will change the look of shows such a Goggle box and 24 hours in A&E. One of the problems with PTZ cameras is keeping the lens focused but this has real time eye auto focus and tracking as well as pan, tilt and zoom functions that combine to focus on fast moving subjects. And it works really well.
Samyang
Two more lens options on show of note were from Samyang. The Samyang XEEN MEISTER creates impressive images and the quality seems really good. But with only three in the set and at £6,300 plus VAT they have been positioned at a very high price point. Samyang were also showing off the XEEN Anamorphic 2x. They cover full frame and claims 8K resolution but again at £14,000 plus VAT per lens they had better be very very good. Fortunately they did look good.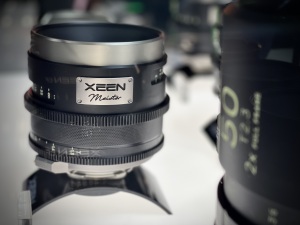 Atlas
We tested the new Atlas Mercury Series 1.5x Full-Frame Anamorphic Primes. The flair was very pretty classic anamorphic horizontal flair with oval bokeh. They have a great quality feel to the lens and are very compact at an impressively competitive price of around £5,000 – £6,000 when they hit the streets.
Arri
There was a lot of people on Arri stand but we got the feeling they were mainly there asking when they were going to receive their new Alexa 35. We checked and yes its still a very good camera and we await the immanent arrival of our cameras.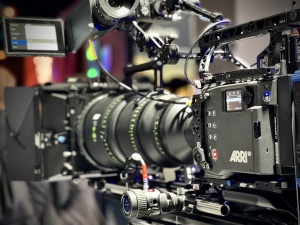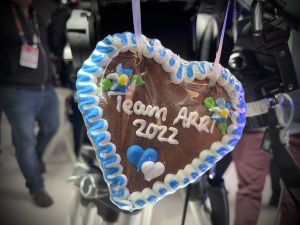 Well that's about it and if you are a manufacturer and not making an LED light you are not trying hard enough. They were everywhere on loads of stands as manufacturers try and get a piece of that huge growing market.
Always great to go to Amsterdam and meet all our friends there. Thank you IBC and the IBC 2022 team!
Rob Shaw
Eileen Byrne
Mark Tredinnick
Media Dog Team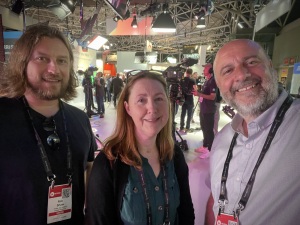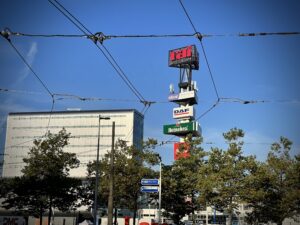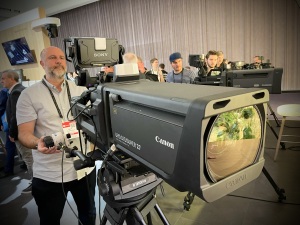 Related Items